Sponsor A Patient 2021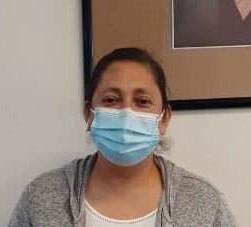 Since I started coming here, I noticed all the help I have been getting. Little by little I have been doing better, but with lung problems it has been pretty hard. That is why I am so glad for WGMC.
–Angelica J., WGMC Patient
Dear Friend,
I want you to know the impact of your support. In her own words, Angelica describes how WGMC has helped her:
"WGMC has been very important to me and has helped me with everything I need from my medication to lab tests, CT scans and X-Rays. I am so grateful for the help at WGMC. I am glad there is a place for us, not just for me, but for other people who don't have insurance. I have a lot of lung problems. When I need anything, I know that WGMC is here for me. I'm grateful for Raquel and all the doctors and staff. I am so grateful for the help I have received. I am grateful for this clinic and for everyone's help. I have been a patient at WGMC for 4 years and have received all the help I have needed from WGMC. I have been a patient of WGMC for a while because of all the healthcare I need. The clinic has done so much for me."
Patients like Angelica are extremely vulnerable, especially now due to the global pandemic. Because of your support, we have been able to provide her with needed medication and healthcare. Angelica's health is improving and she is able to care for her family, because of you. Angelica is one of more than 1,000 people we helped this year. Providing everything from COVID vaccines, surgeries, primary care visits, specialist visits, medications, emergency shelter and more.
Each year, we ask you to "Sponsor a Patient" by making a contribution to help us with this important work. Please consider a donation today. No amount is too small. Last year we were able to provide $20 in service for every $1 donated. Your support helps keep families, individuals and communities healthy and whole. Thank you for your dedication and faithfulness to our mission.
With Gratitude,
Shawn Marconi, MBA                        Brett Carr
Executive Director                              President, Board of Directors
Temporary Mailing Address:
PO Box 1189
Joliet, IL 60434