Sign-Up to Receive Your COVID-19 Vaccine/
Regístrese para recibir su vacuna COVID-19
WGMC will be offering COVID-19 vaccines on a variety of dates. Go to COVID-19 Vaccine Clinics under the COVID-19 tab to learn more.
WGMC ofrecerá vacunas COVID-19 en una variedad de fechas. Vaya a Clínicas de vacunas COVID-19 en la pestaña COVID-19.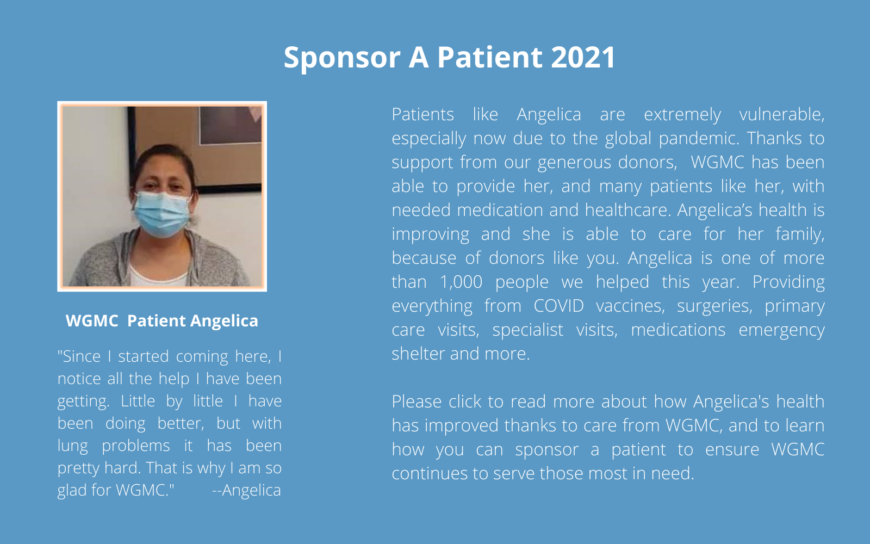 Meet one of our Patients
Mauro came to the clinic over two years ago with severe asthma and diabetes. Our volunteer providers and network of specialists provided him with access to critical medications and care necessary to manage these conditions. With our help, Mauro continues to manage his chronic conditions successfully. Management of his health has meant the ability to continue to provide for his family.
Stay In the Know!
The Clinic sends a handful of updates to our supporters annually to keep the community informed. (We're careful not to spam). Sending us your e-mail also ensures we can send you an e-receipt for tax-deductible donations, so you can keep track of your giving for tax purposes.